Renaissance Dinner in the 220 years old cellar of the SYMBOL restaurant in Óbuda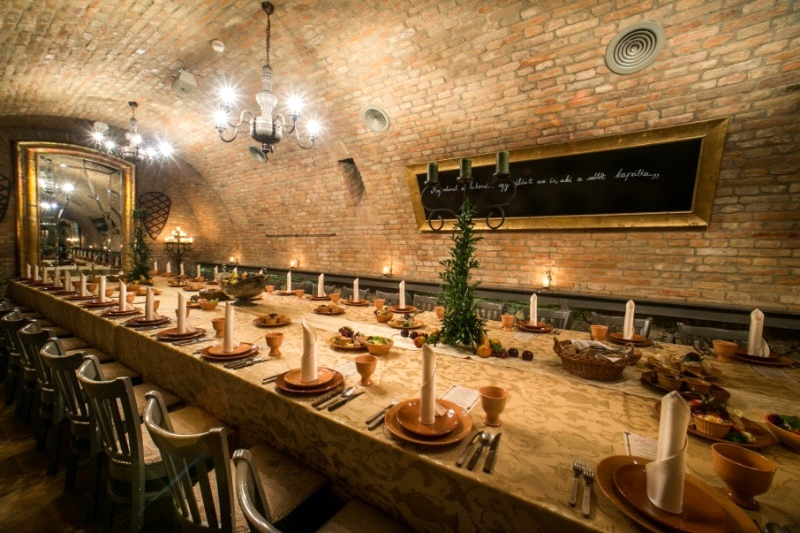 SYMBOL Restaurant
No. 65 Bécsi út
7.30 pm – 10.00 pm
The workshop takes place in the Buda district called Viziváros, at the foot of the Buda Castle Hill which Buda Castle was the seat of the Hungarian kings. In medieval Europe Buda with its roughly 8000 inhabitants was among the continent's major cities and it was also a major cultural center, especially the court of king Mathias with its world famous library of Corvinas.
The workshop dinner will take place in the III. district of Budapest, also known as Óbuda which in the medieval times was the city of the Hungarian queens. With a renaissance dinner and music we shall commemorate the golden age of medieval Hungary under the reign of Mathias and his wife Queen Beatrix.
The dinner will be in a 220 years old cellar which today is an attraction of the SYMBOL Restaurant, located at No. 65 Bécsi út (the major road towards Vienna). The present form of the restaurant's neighbourhood dates back to the XVIII century when German winemakers and they vineyards dominated the hills around Buda, so this section of the Bécsi út was full with cellars and small restaurants. As of today only a small number of these restaurants remained in their original form, but about two decades ago this section of Bécsi út was revitalized to bring back the XVIII century streetview and some of the atmosphere of the old Óbuda and its Újlak district. Nowdays this district is one of the most popular nightlife neghbourhoods of Budapest with lots of bars and clubs.
The restaurant can be best reached from the workshop venue by Tram 19 or 41 (northbound): it is less than 5 minutes walk from the Kollossy tér (Újlak) stop of the trams.