A special workshop on FP7 project will be integrated in the conference.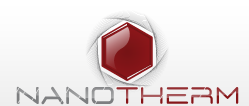 Nanotherm – Innovative Nano and Micro Technologies for Advanced Thermal and Mechanical Interfaces
Future electronic power devices and packages will need to demonstrate more performance and functionality at reduced cost, size, weight, energy consumption and thermal budget. Further, increasing reliability demands have also to be met by industry to be competitive in this growing multi-billion Euro market of heterogeneously integrated systems.
To respond to these challenges, new innovative nano- and micro-technologies and materials, both of which are key enablers for advanced thermal and mechanical interfaces, have to be developed and compatibly integrated to obtain higher electrical, thermal and reliability performance under harsh environmental conditions.
NANOTHERM's objective is to take up these challenges in design, technology and test:
Novel approaches to thermal technologies with superior electrical, thermal and thermo-mechanical properties will be developed in the project and demonstrated on automotive, avionics, solid-state lighting and industrial applications.
Parallel routes will be followed addressing nano-sinter-adhesive bonding, phonon-coupled VACNT joining, functionalised nano-filled adhesive die attach and graphene-enhanced surfaces.
The main principle common to all technologies is the exploitation of nano-effects to obtain outstanding interconnect properties by especially developed processes. In parallel, a multi-scale and multi-domain modelling framework will furnish guidelines for materials design by various approaches from ab-initio up to continuum modelling and verified by corresponding experimental techniques.
The consortium of this integrated project is composed of 18 partners from industry, SME and academia out of 8 European countries. We are convinced that NANOTHERM's results will enable the next generation of heterogeneously integrated power packages, cut down thermal interface resistance at least by 50% and impact also on other power system-in-package configurations.