Aim of the Workshop

THERMINIC Workshops are a series of events to discuss the essential thermal questions of microelectronic microstructures and electronic parts in general. These questions are becoming more and more crucial with the increasing element density of circuits packaged together and with the move to nanotechnology. These trends are calling for thermal simulation, monitoring and cooling. Thermal management is expected to become an increasingly dominating factor of a system's cost. The growing power dissipated in a package, the mobile parts of microsystems raise new thermal problems to be solved in the near future necessitating the regular discussion of the experts in these fields. Finally, there is an increasing need for accurate assessment of the boundary conditions used in the analysis of electronic parts, which requires a concurrent solution of the thermal behaviour of the whole system.

The main topics to be discussed during the Workshop are the following:
Thermal and Temperature Sensors
Thermal Simulation
Electro-thermal Simulation
Thermal Modelling and Investigation of Packages
Reliability Issues
High Temperature Electronics
Heat Transfer Education
Flow Visualisation Techniques
Turbulence Modelling in Complex Geometrics

Thermal Characterization
Measurement of Thermal Properties
Acquisition and Analysis of Thermal data
Temperature Mapping
Novel and Advanced Cooling Techniques
Thermal Performance of Interconnects
Heat Transfer Enhancement
Validation of Thermal Software
Coupled (Thermo-mechanical, Thermo-optical, etc.) Effects.
Previous THERMINIC Workshops have been held in Grenoble (1995), Budapest (1996), Cannes (1997 and 1998), Rome (1999), Budapest (2000), Paris (2001), Madrid (2002) and Aix en Provence (2003).
The programme includes 4 invited talks, oral and poster presentations and a panel. Oral contributions consist of 15 min. presentations followed by 5 min. discussion. The posters will be introduced by one slide in maximum 5 minutes each.

Workshop Committee
General Chair:
B. Courtois, TIMA Laboratory Grenoble, France
Vice General Chair:
M. Rencz, BUTE, Budapest, Hungary
Programme Chairs:
C. Lasance, Philips, The Netherlands
V. Székely, BUTE, Budapest, Hungary
Programme Committee:
K. Azar, ATS/USA
D. Blackburn, NIST/USA
M. Baelmans, KUL/Belgium
J. Janssen, Philips/The Netherlands
H. Pape, Infineon Techn./Germany
A. Tay, NUS/Singapore
E. Driessens, IMEC/Belgium
O. Slattery, NMRC/Ireland
G. De Mey, Ghent U./Belgium
L. Codecasa, Polit. di Milano/Italy
D. Copeland, Fujitsu/USA
G. Digele, The Boston Cltg/Germany
Y. Scudeller, Laboratoire de Thermocinétique/France
P. Tadayon, Intel/USA
P. Raad, South. Methodist U./USA
P. Rodgers, CALCE Electronic Products and Systems Center/USA
A. Shakouri, U. of California/USA
M-N. Sabry, U. Française d'Egypte/Egypt
I. Barsony, KFKI-ATKI/Hungary
W. Claeys, U. Bordeaux/France
G. Wachutka, TU München/Germany
F. Christiaens, Alcatel Bell/Belgium
A. Rubio, UPC/Spain
Y. Joshi, The Georgia Institute of Technology/USA
B. Guenin, SUN/USA
M. Kimura, Tohoku-Gakuin U./Japan
J. Samitier, U. Barcelona/Spain
Y. Gianchandani, U. of Michigan/USA
A. Napieralski, TU Lodz/Poland
A. Glezer, The Georgia Institute of Technology/USA
A. Siebert, Rolls-Royce/UK
B. Charlot, TIMA Laboratory/France
J. Rantala, Nokia/Finland
Z. Radivojevic, Nokia/Finland
E. Suhir, UC Santa Cruz/USA
S. Volz, Ecole Centrale Paris/France
J. Parry, Flomerics/UK
C. Nicole, Philips/The Netherlands
Y.C. Gerstenmaier, Siemens/Germany
W. Batty, U. of Leeds/UK
J.B. Saulnier, ENSMA/France
V. Eveloy, Electronics Thermal Management/Ireland


Exhibition
An exhibition will be held during the time of the Workshop. Tabletops or Spaces for a portable marketing stand 6sqm are available to companies interested to exhibit equipment, materials, software, etc. Booking of each table-top or Spaces for a portable marketing stand 6sqm will give one slot of time during the vendors' session. The number of space is limited. They will be offered on a first signed - first served basis. Contact the General Chair for more information.
The Workshop will feature an exhibition along the 3 days of the Workshop. The exhibition will be open to all Workshop participants.

Information
More information on the Workshop is available from:
Bernard COURTOIS
TIMA Laboratory
46 Avenue Félix Viallet
38031 Grenoble cedex, France
Tel.: +33 4 76 57 46 15
Fax: +33 4 76 47 38 14

Marta RENCZ
Budapest University of Technology & Economics (BUTE)
Dept of Electron Devices, Goldmann György tér 3
H-1114 Budapest XI, Hungary
Tel.: +36 1 463 2702
Fax: +36 1 463 2973

Venue
The Workshop will be held in the

situated in a 30-acre landscaped park in the heart of the Valmasque forest.

Access

At 15 minutes from Cannes and from Nice Côte d'Azur international airport, poised between the sea and the hills, Sophia Country Club Grand Hotel Mercure is a haven of greenery in the very heard of Sophia Antipolis, the world-famous site for business and leisure. At 15 minutes from Cannes famous Croisette. At 10 minutes from the beaches of Juan les Pins.

The hotel is easily accessible:

By plane (25kms from Nice Côte d'Azur Airport.
By public transport (bus n°230).
By rail, by TGV trains (15kms).
By road via A8 (Autoroute du Soleil): taken ot highway N°44 towards Sophia Antipolis.

If you come from Nice Airport: you have to follow the signs to the Highway A8, then enter the highway direction CANNES / ANTIBES. Then leave the highway at the exit called ANTIBES (N° 44) and follow the signs to Sophia Antipolis. As soon as you see them follow the signs to "LES BOUILLIDES" until you reach the "Eganaude roundabout". At this roundabout take the "route des Dolines".
The hotel is situated at 50m on the left.

If you come from Cannes: you have to follow the signs to the Highway A8, then enter the highway direction ANTIBES / NICE. Leave the highway at the exit called ANTIBES (N° 44) and follow the signs to Valbonne. Turn right at the entrance called "les Lucioles 2" and then go ahead until you reach the "Albert Caquot roundabout" where you turn left.
You will find the hotel entrance 400m on the right after The Mercure Hotel.
ACCESS MAP
SOPHIA COUNTRY CLUB / GRAND HOTEL MERCURE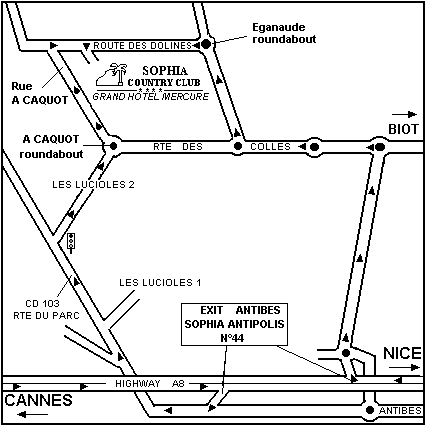 Social Event on 30 September 2004
17:20
Buses departure to Cannes.
17:40

Free time in Cannes.
Each year beside various rendez-vous always very friendly dedicated to its members, the Yacht Club de Cannes organises numerous nautical activities. From 26 September to 3 October there is this year the " Régates Royales ".
We recommend you to walk along the Vieux Port de Cannes and take time to admire these boats before the diner.

20:00
Diner in the Restaurant Le Méditerranée in Cannes

A diner will be organized at the restaurant "Le Méditerranée" in Cannes "Côte d'Azur". On the westernmost point of the bay of Cannes, bordered by beach of fine sand and overlooking the yacht harbour and the Croissette.

22:00
Buses departure to Sophia Antipolis.

Insurance
While the Workshop organisation makes every effort in order to ensure the safety and well being of all the Workshop participants and associates, the Workshop cannot take responsibility for any accident or damage that may occur during the Workshop.